Takes too long to brew? Your day starts way too slow. Too complicated? You might find yourself starting over five minutes after you start. The coffee maker your buy is an important decision. That's why you should choose what's most important to you and evaluate our list of the best coffee makers.
Deeply ingrained into many people's morning routine is enjoying a cup of coffee. Some may sip their coffee slowly as they wake up, and others take it to go and drink it in a rush.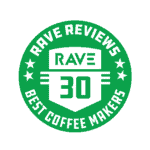 Maybe coffee is the final note of a meal, or coffee is your entire meal. However, you drink it, a day without coffee for many is unfathomable. Taking it a step further, how the coffee was made and the method in which the coffee was brewed can be just as important.
While grabbing a cup at a local coffee spot has its perks, brewing your own coffee is often times more efficient, economical, and can deliver that signature homemade taste and routine.
Choosing an automatic brewing system may seem the easiest, but coffee researchers will soon discover that some of the more curious coffee gadgets are simple to use and quick to master. In the end, the process is relatively simple, but the nuance of that process is where the art is.
Whether looking to take your coffee to a more sophisticated style of brewing via the French press method or looking to invest in a machine that creates a rich, but not bitter tasting cold brew, this list will give you some top choices to review and introduce some makers that may be unfamiliar.
For example, if you are brewing for one or have a group with many different taste preferences, maybe a single cup coffee maker is your best bet, as it gives major versatility and a variety flavors to peruse.
Pour over coffee is becoming a more visible trend in coffee shops around the country. Let this list point you in the right direction of this surprisingly easy method and soon you will be on trend, but brewing at home.
Maybe the most important factor for you is that a machine that gets the job done for the best value. From boutique to best value, this list will give you all the options to make a high quality, informed purchase.
METHODOLOGY
Our methodology is based on a weighted score of a variety of factors that include: price, brewing method, convenience, durability, usability, and more.
We carefully scrolled through numerous websites, taking in ratings upon ratings from real users, consumer journalism, and multiple other metrics to create a robust scoring system. We then took an aggregate of those scores across different categories to come up with our rankings based on a scale from 0-100.
Then we took an average of those scores for a final metascore and built our ranking from there, categorized by coffeemaker types, to organize the different product comparisons. The scores in each subcategory are then rounded to the nearest whole number and weighted in relation to each other on the list on a consistent weighted calculation.
This list of the best coffee makers will help in choosing a new coffeemaker. Each entry has simple and detailed explanations, in language that is not only for coffee aficionados.
Categories go from drip coffee makers to French press to pour overs, along with more specialized forms like cold brew and single cup.
BEST COLD BREW COFFEE MAKER
The Rave pick for best coffee maker for cold brewing.
Looking for an affordable and effective cold brew coffee maker? Try the Takeya Cold Brew Coffee Maker, an easy to use brewing system that tops our list of the best cold brew coffee makers available.
The Takeya Cold Brew Coffee Maker is equipped with a simple infuser which users add coarsely ground beans to. Creating superb cold brew at home is no problem.
Simply add cold water to the Takeya pitcher and insert the infuser. Seal, shake and store in the refrigerator for 36 hours or overnight and you will have a perfect cold brew ready to enjoy.
The Takeya Cold Brew Coffee Maker can conveniently make 1 quart per brew, which is about 4 servings. Its sleek design allows it to fit nicely inside refrigerator doors, making a quick stop for a cold drink no problem.
The Takeya Cold Brew Coffee Maker features a leakproof lid that has an airtight seal, ensuring no messy spills and locking in all the rich, cold brew flavor.
Made with BPA free construction, users will also have the peace of mind that they are having a healthier drink.
Its durable body is made to withstand high and low temperatures, allowing for the Takeya Cold Brew Coffee Maker also to be used to create hot coffee – adding to its versatility and overall value.
Rave Meter: 100
See full article at Rave Reviews.