Updated 2:25 PM EDT, Thu August 13, 2020
(CNN) —  
There's something revitalizing about an icy glass of caffeinated brew. For many, iced coffee is the coffee of choice, regardless of season or weather. There are several ways to make a delicious iced coffee, from simply chilling leftover hot coffee or making double-strength hot and pouring it over ice, to adding freshly pulled espresso to ice or creating a fun occasion-worthy frozen coffee. But for some coffee lovers, their tried-and-true iced method is cold brew.
The sophisticated older sister of iced coffee, cold brew is an elixir that results from slowly steeping ground coffee in room temperature or cold water for a number of hours (generally eight to 24). The removal of heat from the brewing process yields a smooth, silky, less acidic liquid that goes down, we learned, quite easily. In trying to describe the difference between cold brew and regular iced coffee, one friend who tasted a couple of our batches likened it to the first time you taste higher-quality whiskey — aside from the nuances in taste, it feels softer in your mouth and smooth as it goes down.
As cold brew's popularity has exploded, so too has the number of at-home cold brew devices. While it's fairly easy to make top-quality cold brew at home using just a Mason jar or a French press, these cold brew-specific devices are intriguing, convenient, and — if you enjoy coffee experimentation as much as we do — a little more fun.
To bring you the best, easiest cold brew at home, we tested a range of devices using a wide set of criteria (outlined below), over several weeks. We measured, dripped, steeped, patiently waited and poured our way through a 5-pound bag of Stone Street Coffee's cold brew reserve grind, which produced a rich, nutty, chocolaty concentrate. We tasted each brew on its own straight from the carafe, over ice and with as many different milks as we could keep in our refrigerator — and when we ran out of storage, we gave carafes to neighbors for their feedback. We drank a massive amount of cold brew, and we became converts.
A quick look at the winners
The industry experts we consulted about cold brew told us that a more expensive, complicated home device doesn't necessarily make a better-tasting product. Ben Helfen, coffee education specialist at Counter Culture Coffee, for example, told us he makes cold brew at home in a Mason jar, then filters it through a paper filter into a second jar. After testing 11 commercial home brewers, we're inclined to agree that in the world of cold brewing, simplicity is king.
Not by coincidence, then, the three top-scoring devices we tested were the most turnkey ones: The methodology of fill filter with grounds, add water to carafe, put lid on, and wait, appealed. There are also plenty of devices on the market that have more involved brewing processes, are more aesthetically artful, have more timing-control elements, make slightly bigger batches or have additional nifty features. We tested seven brewers that fell into this slightly more complicated category, with varying results — though not when it came to coffee taste. All seven of these, like our winning three, yielded a consistently strong, tasty, satisfying brew.
None of those additional features, though, outweighed the value of just making very good cold brew with very little work. This doesn't mean we didn't utilize and enjoy those additional features; we did, and we'll outline them below.
The all-plastic Takeya Cold Brew Iced Coffee Maker turns out 1.8 liters of fantastic cold brew — a greater volume than some of its simple-carafe brethren — and is the lightest, easiest model to throw in a weekend bag without fear of breakage for on-the-go brewing for a group or larger family.
Best tumble and travel option: Takeya Cold Brew Iced Coffee Maker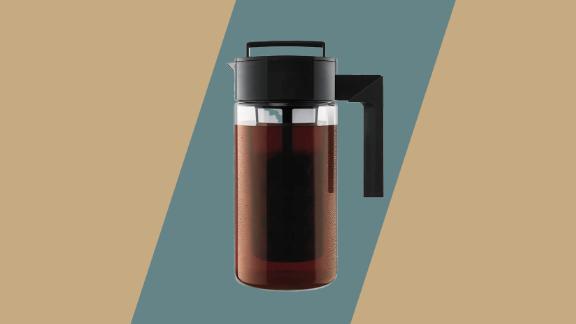 We like to think of the Takeya Cold Brew Iced Coffee Maker as the S'well or HydroFlask of cold brewing: Fill it up, put the lid on, throw it in your bag and go anywhere with it. Well, not quite, but almost. This brewer is the height of low-tech and intuitive, and — bonus — it's pretty portable!
The Takeya carafe and lid are made of a solid plastic, and the filter is mesh and plastic, which means the entire cold brewer is durable and pretty much unbreakable. The brew mechanism is the same as the two other winning brewers — fill filter with grounds, add water to carafe, screw on lid, sit quietly for a day — but the directions for this one specifically call for the user to shake the carafe a couple of times during brewing to mix and activate the grounds and the water. (Stirring or otherwise mixing the brew is a good idea, no matter which cold brew maker you're using.) The lid is surprisingly secure, so there isn't any leakage during shaking. The carafe is big and tall — it makes 1.8 liters, or 1.9 quarts, of cold brew — but the user is directed to turn it on its side in the refrigerator during steeping. During one of our test brews, a bit of coffee dribbled out, but during subsequent brews, we better secured the lid and didn't experience any leakage. This was the most affordable brewer we tested, but it was as efficient and well-performing as any of the other brewers in our testing pool.
For a plastic brewer, the Takeya is quite nice-looking, though doesn't provide as high-end a user experience as the glass brewers. Its minimal design makes it feel more sophisticated; however, because there are no measurement markings on the carafe, the coffee-brewing experience isn't as precise as with the other models we tested. If you're making less than 2 quarts, you'd have to measure out both your grounds and your water outside of this setup, but if you're going for the maximum brew, you just add grounds and water to the top. Sort of as easy as refilling a Brita water carafe — you just stop when it looks full.
If that's how you like to brew coffee, you want to spend less than $25, and you have a little more space in your fridge, this maker's for you.
How we tested
The testing process for these cold brewers was exhaustive, lasting more than five weeks. We evaluated each device based on criteria important to users, namely function, durability and design. We tested each device at least twice, using the same preground coffee from Stone Street. We took photos of each device's unboxing, assembly and use, and we took notes in a spreadsheet about every detail of each of these brewers, from how they felt in our hands and how much counter space they demanded, to how they appeared during the brewing process and the liquid they produced at the end of that process. We became enamored with many of these brewers, as well as their end result: the sumptuous cold brew that became our morning's mission over these summer weeks. We drank gallons of cold brew, and yes, lay awake at night thinking about the pros and cons of each of these devices. Read on for our evaluation criteria and their breakdowns.
Brew function
Optimal taste: We tasted the cold brew from each device immediately after completing the recommended brew cycle, on its own, with ice, with added cold water, with different types of milks, and a day later. We rated each brewer based on the taste and perceived level of acidity of its cold brew.
User-friendliness: We assessed how user-friendly each brewer is, both for someone who has never attempted cold brew before and for a regular cold brew consumer. We noted how easy each brewer was to assemble, how carefully each set of directions needed to be read (if at all), whether the markings on each device are easy to read and follow, and whether each device was intuitive or complicated to operate. Overall, we considered how easy it was with each device to produce a batch of cold brew, from the first opening of the brewer box through the first taste of cold brew.
Volume yield: We noted how many ounces or liters each device can brew, and assessed how that capacity would enhance the overall user experience of that brewer — e.g., some users desire larger batches, others may be happy to produce less in one usage.
Durability
Everyday durability/signs of damage: For this category, we observed how each brewer felt during setup, if the parts felt stable or precarious, and if any of the parts could be easily damaged during a standard brew cycle.
Build quality: We noted what materials each brewer is made of — glass, plastic/silicon, metal — and the tangible feel of each of those materials and parts in the user's hands.
Serviceability: We observed the ease of opening and taking apart each of the brewers, in the case that the device would need to be serviced or parts replaced.
Set up and breakdown
Ease of assembly: We noted how long it took to unbox each device, how many minutes it took to assemble, and whether there was any setup beyond just washing the parts with warm soapy water.
Size: We observed how much space each device took up on the counter both during coffee setup, during the eight to 24 hours of brewing, and in the refrigerator once the cold brew is finished.
Ease of cleanup: After each cold brew process, we noted the effort needed to clean the filter or brew basket, the carafe and any additional parts, including storage of the parts that aren't used after the brew process is complete.
Aesthetic
First impression: We noted our first impression of each brewer, whether it was an appealing design, and if we would want to place it on a breakfast table or look at it each morning in the refrigerator.
Multiple color availability: We researched whether each brewer came in any colors besides the standard black.
Warranty: We checked the number of years of warranty for each device.
How we rated
Using the procedures described above, we gave each brewer a score in each subcategory, combined those scores for a total score in each subcategory, then added up those numbers for an overall total. We broke down the scores as follows:
Function had a maximum of 30 points: quality of brew (15); user experience (10); volume yield (5).
Durability had a maximum of 20 points: everyday durability/damage potential (10 points); build quality (5 points); serviceability (5 points).
Setup/breakdown had a maximum of 15 points: ease of assembly (5 points); size/counter space consumption (5 points); ease of cleanup (5 points).
Aesthetic had a maximum of 10 points: first-impression looks (5 points); multiple colors available (5 points). Note: Most of these brewers did not come in additional colors.
Warranty had a maximum of 5 points: lifetime (5 points); two to five years (2 points); less than two years (0 points). Note: None of these machines had a warranty greater than a year, so they all scored equally, a zero, in this category.
In addition to the overall score, we factored in the price of each device, none of which was above $100, most of which were much less.