Flash Chill Iced Tea Maker
Flash Chill Iced Tea Maker
Brew, chill, serve and store iced tea in just minutes with our 1qt Flash Chill Iced Tea Maker. The patented Flash Chill method features our airtight lid that locks in fresh aromas and flavors at their peak, delivering a handcrafted glass of iced tea with every pour. Fine mesh tea infuser is ideal for loose leaf tea, allowing each leaf to expand, unfurl and release full flavors.
Airtight & Leak-proof: Lid twists into pitcher to lock in freshness and flavor. Can be stored on its side.
Includes infuser holder, which prevents spills and burns when removing filter from freshly brewed hot tea. It also serves as a holder for the infuser to reserve tea leaves for a second brew.
Non-slip silicone handle
Fits in most refrigerator doors
Proudly made in the USA
Dishwasher Safe
How to Make Flash Chill Iced Tea
Product specs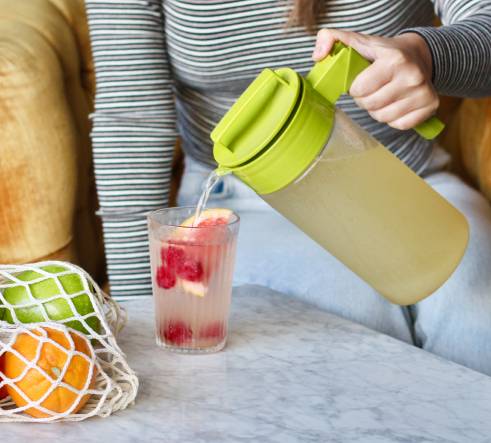 Lid
Dimensions
9.25"H x 6.1"W x 4.1"D
Weight: 0.99 lbs.