CP Signature Pickleball Insulated Water Bottle with Sport Spout Lid
CP Signature Pickleball Insulated Water Bottle with Sport Spout Lid
HYDRATION IS AN ALL DAY GAME™ Designed with Pickleball Champion, Catherine Parenteau, the 40oz CP Signature Bottle will take your hydration game to the next level with Chill-Lock™ technology that keeps your water ice cold for up to 24 hours. Quickly quench your thirst in between points with our leakproof, pro-series spout lid with ice-blocker. Built for the court and made for your most intense match, the sweat-free powder coated bottle is easy to grip and a protective silicone bumper prevents dings and dents. Hydrate like a pro with this game-changing bottle!
Catherine Parenteau shares "I love my CP signature bottle because the Chill-Lock technology keeps my water cold all day no matter how long I'm playing. I also love the bumper because it protects it really well when I'm in a hurry during a time out of an intense pickleball game."
CHILL-LOCK™ SWEATPROOF DOUBLE-WALL INSULATION: Sweatproof bottles with textured coating for a good grip for quick one-handed drinking. Keeps your water ice cold up to 24 hours for better hydration on and off the court
PRO-SERIES LID: Insulated spout lid with twist cap for quick hydration. Built-in ice blocker for quick gulping in-between points.
EXTENDED COMFORT LOOP HANDLE: Larger handle for easy carrying or attaching to bags or backpacks.
CP SIGNATURE SERIES: Pickleball Champion Catherine Parenteau loves this bottle, as it keeps her hydrated before, during and after matches.
SILICONE BUMPER: Silicone bumper for added protection against bumps and dents.
DISHWASHER SAFE
LIFETIME WARRANTY: Awesome. Guaranteed.
Product specs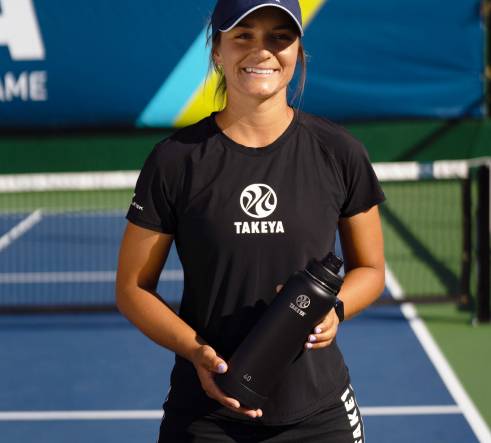 Bottle
18/8 food grade stainless steel
Insulated Lid
BPA-Free durable PP#5 with silicone o-rings
Dimensions
11.50"H x 3.70"W x 3.70"D
Weight: 1.13lb