Sure-Grip Glass Water Bottle
Sure-Grip Glass Water Bottle
Purity meets function in the Takeya 22oz Sure-Grip Glass Water Bottle.
This sleek bottle is made from thermo-shock resistant borosilicate glass that will stay odor-free, stain-free and will maintain the purity of the liquid in the bottle, so you just taste your cool, crisp water. The Advanced Sure-Grip Safe Shell technology gives the glass a soft touch and keeps glass shards contained for safe clean-up and easy disposal if broken.
The folding straw lid with convenient finger loop makes it easy to carry your bottle to stay hydrated all day long. The wide mouth means you can fill it and clean it with ease.
The removable silicone bumper provides an extra layer of protection and allows for a quiet set down on a desk or next to your mat for a yoga class.
22oz capacity
Innovative sure-grip safe shell coating.
Odor-fee, stain-free, taste-neutral borosilicate glass.
Leakproof when folded straw lid
Easy to clean and fill wide opening.
Removable protective silicone bumper.
Dishwasher safe
Product specs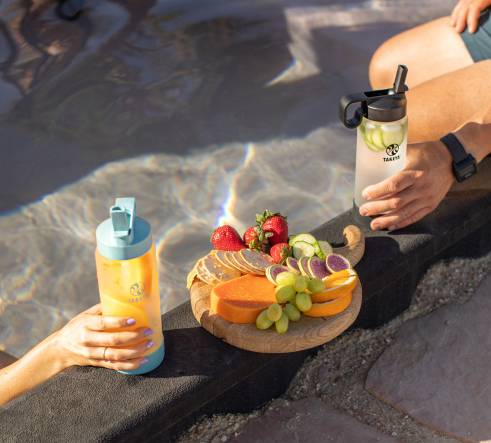 Bottle + Lid
Thermo-shock resistant borosilicate glass with leak-proof straw lid
Care + Use
Glass is a fragile material and may break upon impact. Please use appropriate caution.
Do not microwave.
Do not freeze your bottle or leave it in freezing temperatures.
Not designed for use with hot or carbonated beverages.
Do not use cleaners containing bleach, chlorine, abrasives, or other harsh chemicals.
If your glass bottle breaks or cracks, dispose of immediately.
Dimensions